Rehabilitation
DME Mobility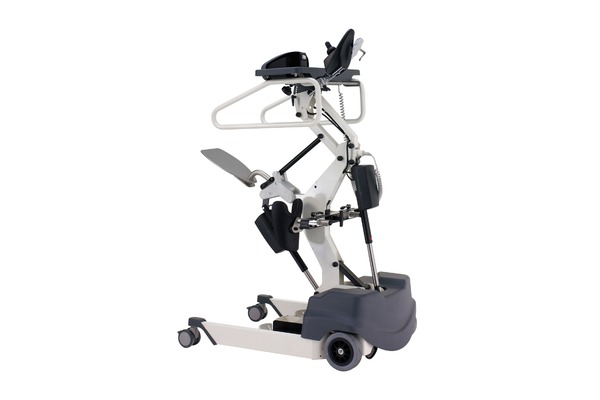 STRUZZO
Description
The device enables the user to assume and maintain an upright position
To move around indoor independently without assistance from a carer.
User is lifted into a standing position by means of a (rechargeable) battery-powered electric motor operated by hand control.
The movement of the thoracic support has a safety sensor for the user to stop the standing sequence at any time.
The aid is also provided with a Joystick unit and two motors that allow for the transfers to be carried out unaided.
The main body can adjust to the user's height electrically by means of a motor unit.
The handles can be tilted and adjusted in width
The flat seat is adjustable in depth.
Set includes of;
Footplates
Knee supports
Verticalization support
Side handles
The upper part of the structure
Service tray
Technical specification
Weight: 70 kg
Max Load: 140kg
User Height: min 140cm - max 200 cm
Handles-thoracic support assembly: Movable - can be lifted up
Servo-assisted lift: electric
Structure height adjustment: Electric
Overload protection: Electronic
Overload indicator: Acoustic
Parking brake: on back caster
Max speen of movement: 2.5km/h (adjustable)
Frame height from ground: 31 mm
Max climbable step: 20 mm
Max climbable slope: 2 degrees
Operation time (lift/transfer): 3-4 days normal usage (2h 30 min uninterrupted use for movement)
Average battery charging time: 8 hours
Battery charging level: multi-color display on joystick
Speed adjustment level: digital on joystick
Auto off: as standard
Fault disgnostic and maintenance: on display
Lift stop button: as standard
Lift stop button inhibit: as standard
Brand: CHINESPORT, UK
---