Rehabilitation
Evaluation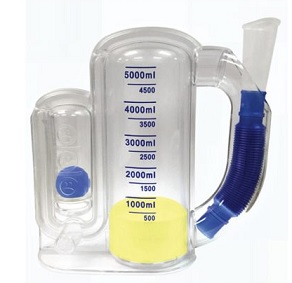 NEMO - SINGLE BALL SPIROMETER
S-R-A18-022660030
Product Features
Nemo Incentive Spirometer encourage the patients to do respiratory exercise.
Helps therapist to fix specific target for the patient.
Each set include Incentive Spirometer, mouth piece and flexible tube.
Compact design.
Indications
Post Surgery
Recovery during critical illness
Respiratory Illness
Rib Fracture / Injury
Before Use
Follow your Doctor Healthcare Professional's advice before using NEMO Incentive Spirometer.
Clean the mouthpiece of Incentive Spiro meter before and after every use.
Ensure the hose of NEMO Incentive Spirometer is fixed to the device properly before use.
User Information
Place the mouthpiece in your mouth and close your lips tightly around it.
Breathe in slowly through your mouth as deeply as you can.
Make sure the ball in small chamber is in the middle smiley position.
You will see the piston in the big chamber raise upwards. Try to raise the piston to the extend your therapist advised you to do while keeping the ball in the small chamber at the middle smiley.
Repeat the exercise as advised by your Doctor or Therapist
Brand: NEMO
Packing: 1 PC
---
Our Brands: